Family Friendly
We're passionate about our youth and it shows!
Whether it's supporting our youth through donations, coaching on or off the range, we know they are the future.
Live fire Youth Firearms Safety class
Cost: $50.00/person
Duration: 4 Hours with breaks
Class Size: Maximum 12 students
Recommended Age: 6 years to 15 years
Participants will learn about the various parts of handguns, shotguns and rifles. The classroom portion will consist of an in-depth discussion with topics to include:
Firearms inside your home

Firearms inside other peoples homes

Firearms on the range
Following will be pistol and rifle range safety rules and fundamentals of shooting. Each child will have the opportunity to shoot a pistol and rifle. Included:
90 min of classroom

One on one instruction

Range fee

Handgun and Rifle rental

Eye and ear protection

30 rounds of 22LR

T-shirt.
Students can bring their own 22LR firearms. Parents can be on the range to observe during instruction, but must have eye and ear protection.
Contact Ken or Jay if you have questions. Reservations required. Non Refundable. No credit given.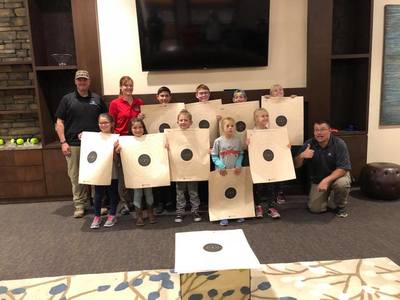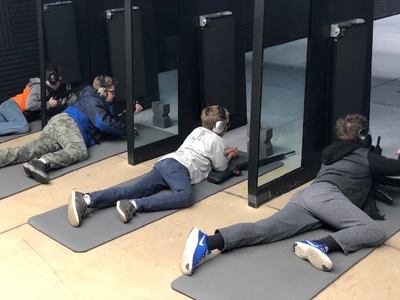 Youth League
Cost: $90.00/person
5:00 PM - 7:00 PM (4:45 PM Check in)
22LR RIFLE, IRON SIGHTS ONLY, NO OPTICS, Minimum age - 9 yrs
ALL SHOOTING IS BASED ON INDIVIDUALS
Shooters will be in squads of 10 (if possible) 3 Rounds, Each Round will consist of:
4 Shots standing, unsupported
3 Shots kneeling, unsupported
3 Shots prone, rest or Bi-pod allowed
Pizza & awards after the last day of shooting. Come join the fun!
League fee: $75
$15 Sign up Fee (waived for members)
Includes all range fees, targets, and rental rifle if needed (requires ammunition purchase from Reno Guns & Range)
We teach youth rifle safety.  A safety briefing is done before the beginning of each competition and we also help them learn the 3 shooting positions of standing, kneeling and prone.