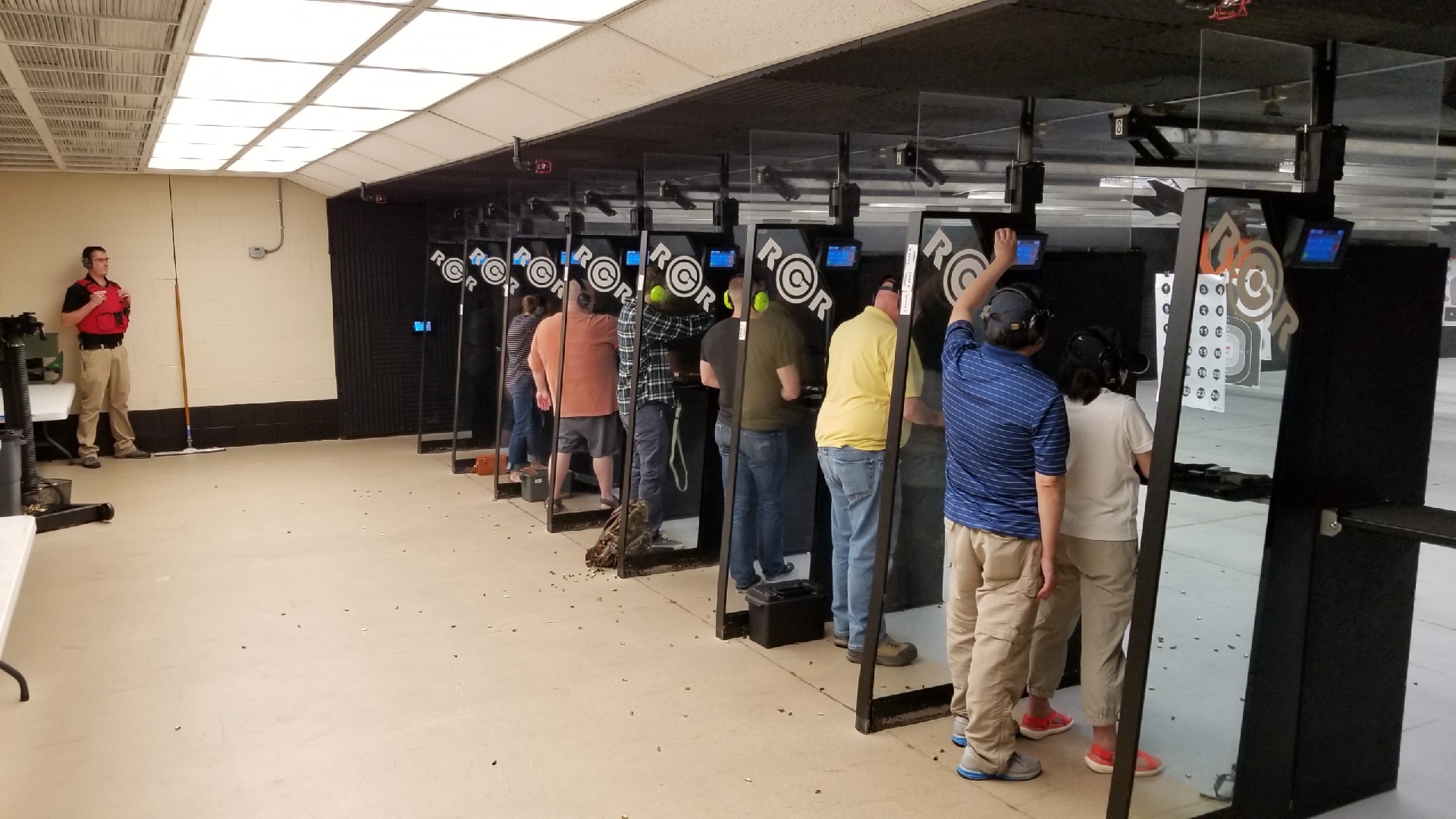 Shooting Range
If you're coming in to use the shooting range you will be asked to read our range rules and sign our waiver.  If you have not already done so, please proceed to the waiver kiosks prior to checking in at the range desk to complete this process.  Once you've signed the waiver, please progress to the proper line at the range desk (note overhead signs for direction).  One of our range staff will collect your information and assign you to a lane.  During this time, you'll also be able to purchase ammunition and targets.  At this time, you'll also be able to rent firearm(s) and hearing  protection. (Eye protection is available for purchase.) We allow only manufactured or re-manufactured ammunition, no home reloads.  For other ammunition limitations, please see our FAQs
If you're new to shooting, we recommend our Intro To Handgun class.  Subject to availability, we also offer an introductory 30 or 60 minute private instruction to get you pointed in the right direction.  (Click for Pricing page.) It's best if you can call ahead of time to make a reservation, but we try to accommodate walk-ins.
Once on the range, please make sure to follow all standard safety rules below along with our other rules.
ALWAYS Keep the Gun Pointed in a Safe Direction.
ALWAYS Keep your Finger OFF the Trigger Until Ready to Shoot.
Know your Target and What is Beyond.
Be Sure the Gun is Safe to Operate.
Know How to Use the Gun Safely.
Use Only The Correct Ammunition for your Gun.
Wear Ear and Eye Protection.
Never Use Alcohol or Drugs Before or While you are Shooting.
First visit?
Welcome!
We're excited that you'll soon visit Reno Guns & Range for the first time.  Our friendly and knowledgeable staff will be there to answer any questions and point you in the right direction.
If you are bringing a firearm into the facility, please make sure it is holstered or in a case and do not remove it from that location until you're on the shooting line or one of our staff will handle it if your are not on the range.  If you do not have a case for your firearm, prior to entering with your firearm, please let our range staff know and they will lend you one for your visit.
If you're looking to purchase a firearm or accessories, our exceptional sales staff is here for you.  We have a large selection of rental guns so you can even try a model (or a similar one) before you buy.
If you are attending a class, please refer to the informational email sent you to you just prior to the day of your class or review the class description from our training page.  Classrooms are located to the right, down the hall once you enter the facility.  If attending a half day or longer class, we request you park at the north side of the facility (blue rotunda end).
Please see one of our sales staff for assistance with any of our other services such as Gunsmith services, Consignments, Memberships, Locker Rentals, Private Event,
We Thank You for stopping in!
Video below has no audio