Reservations and Simulator info
Digitial Simulator

A unique opportunity to practice marksmanship and scenarios in a safe, clean and comfortable environment. Using technology developed for police and military training, you will use real guns with lasers that have been modified to to emit laser signals and interact with the large screen video.  Experience recoil and the feeling of real shooting.  You'll have the opportunity to select from a variety of  options, such as still or moving targets, shoot house, and even various scenarios.
This technology is perfect for the first time gun user as well as the most experienced of shooters. It's safe, accurate and fun!  
Available for Self Paced use or with an instructor and can be used by individuals or groups.
For more information about training and instruction options, please call (775) 826-2626 Ext 120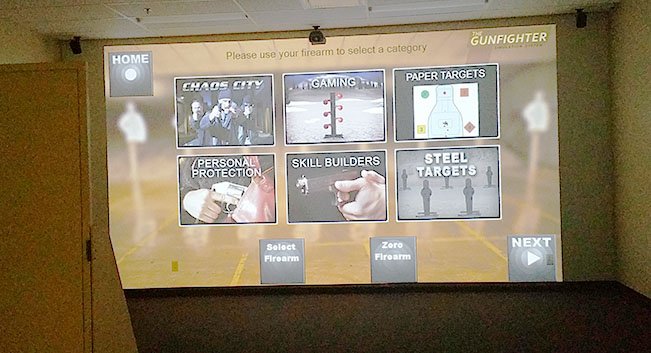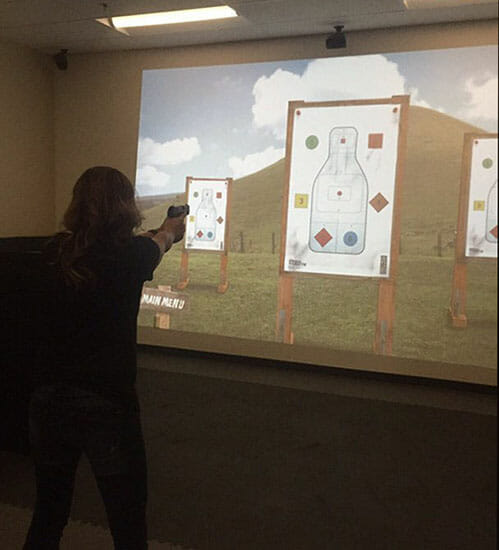 Rules
Digital Simulator Room (DST) Rules
WE RESERVE THE RIGHT TO DENY SERVICE TO ANYONE, AT ANY TIME, FOR ANY REASON.
NO PERSONAL FIREARMS ALLOWED IN DST ROOM.
CHECK ALL PERSONAL FIREARMS IN AT RANGE DESK.
Treat ALL Firearms as if they are loaded.
Firearms Must be pointed down range at all times.
NO food or beverage allowed.
Person(s) suspected of being under the influence of alcohol or any other intoxicating substance, will not be allowed in the DST. Prescription drugs are also prohibited. Persons smelling of alcohol or appearing intoxicated or impaired will be required to leave the facility
RSOs, RANGE STAFF, AND RGR Employees have the right to inspect all firearms, ammunition, and equipment.
Misuse, Abuse or Negligence of any equipment wil result in the Customer being billed for the total cost of the repair in addition to lost revenue.
SAFETY IS OUR # 1 CONCERN HERE AT THE RENO GUNS & RANGE.