3 BAYs OFFER A TOTAL OF
(20) STATE OF THE ART LANES
The bays at Reno Guns & Range feature 20 state of the art lanes with touch screens & 360 degree turning targets. All lanes accommodate handguns and rifles (calibers up to and including .308). Each bay offers generous 4' wide lanes, LED lighting, and at least one lane with an adjustable table height. Our bays are equipped with a custom HVAC system, rubber traps with ballistic rubber tile, and more to minimize lead dust and ricochets. For improved customer experience and safety, as part of our standard operating procedures, a trained Range Safety Officer (RSO) or instructor staffs each bay whenever they are being used by the general public.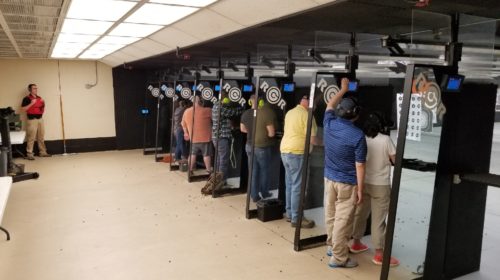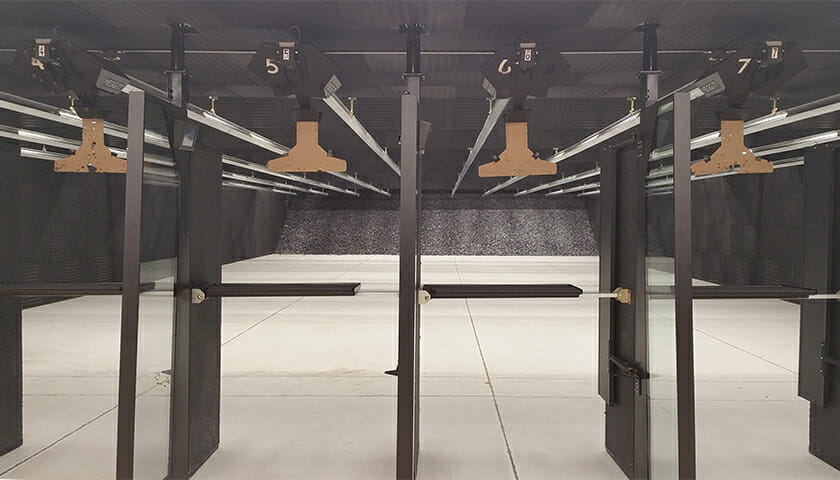 BAY 1 (10 LANES)
The range's first bay consists of 10 individual lanes. This is the primary general public bay available to walk-ins and lane reservations. One-on-one training by one of our instructors is offered on this bay (subject to availability).
BAY 2 (6 LANES)
The range's second bay may be used for overflow from Bay 1, but is often used for private events and training. Our CCW (concealed carry qualification) is held here along with other introductory to advanced classes, many of which involve moving and shooting. To reserve this bay for your private event, please complete our short questionnaire. We'll send you a quote and verify availability.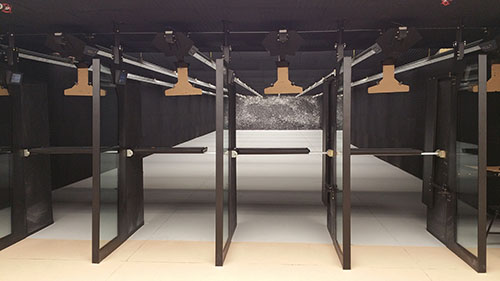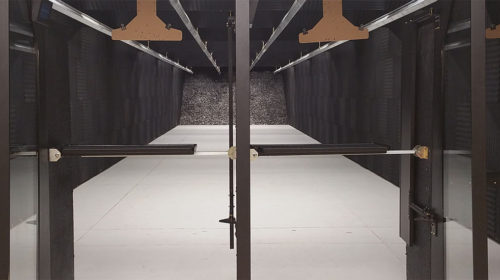 BAY 3 (4 LANES)
The range's third bay offers the ultimate privacy. Bay 3 is also periodically used for overflow for the general public bay, but is often used for private group or individual events and training. Just like the rest of the range, Bay 3 offers the same great features as our other bays, but when combined with our 1600' sq ft Special Events room, offers a unique experience for any group. To reserve this bay and/or the Special Events room for your private event, please complete our short questionnaire. We'll send you a quote and verify availability.
Special Events Room
Our Range provides Private Reservations for small to large groups. Complete your experience by also renting our Special Events Room, which offers easy viewing of the 4 lane bay and easy access to the 10 lane and 6 lane bays. When it comes to Birthday Parties, Anniversaries, and Corporate Outings we have you covered.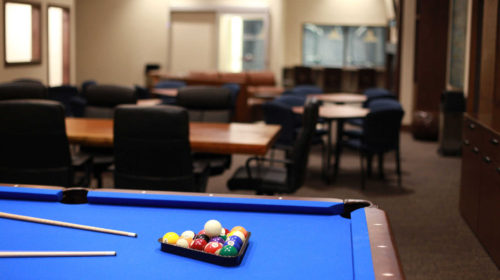 A lot of steel, concrete rubber & insulation! This includes 10 gauge-galvanized steel and 3/8" AR-500 BHN steel throughout the backstop, overhead baffles, safety ceiling and tactical bay side walls.  The walls are designed with a 1" air gap between the ballistic rubber tile and concrete block, which helps minimize ricochets.
... And at team that takes pride in our facility and maintains it with love 🙂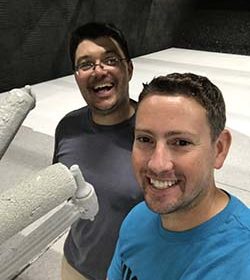 The Meggitt - Next Generation Wireless Target System (XWT) GEN3  is a 360o turning target retrieval system which moves along a rail system, powered by an internal direct-drive, dual-motor system, with anti-static wheels for quieter, smoother operation.
The XWT GEN3 pioneering technology provides a host of advantages:
No bulky, noisy drive motors above the shooter's head 
No track-mounted power feed rails or wires to be impacted and damaged 
No debris in tracks to clean or interfere with target operation 
Programmable scenarios, including a variety of maneuvers can be programmed to allow users to engage in an assortment of scenarios, helping to develop skill sets and train more effectively.
This Premier Range containment system is designed by Paragon Tactical – Super Trap® 
The designed offers shooters protection from:
Fragmentation
Ricochets
Lead Contamination & Fire
At the core:
Bullets are captured and contained within the bullet trap, which is made up of ballistic rubber media.
Additionally the rubber is treated with:
Gel-Cor®, a class "A" fire treatment
ELIxIR® (DOD governmentally approved fire retardant material that will verifiably immobilize lead to less than (3ppm) which is far below the EPA hazardous materials threshold of (5ppm)
Ballistic Rubber Tiles (BRTs) are used throughout the range on walls, ceiling and baffles. These high density rubber tiles
Eliminate ricochets and lead "splashback"
Minimize airborne lead pollution
Reduce noise levels
Along the walls and behind the BRTs, is an air pocket which allows stray rounds to freely drop to the floor for easy cleaning and lead mining.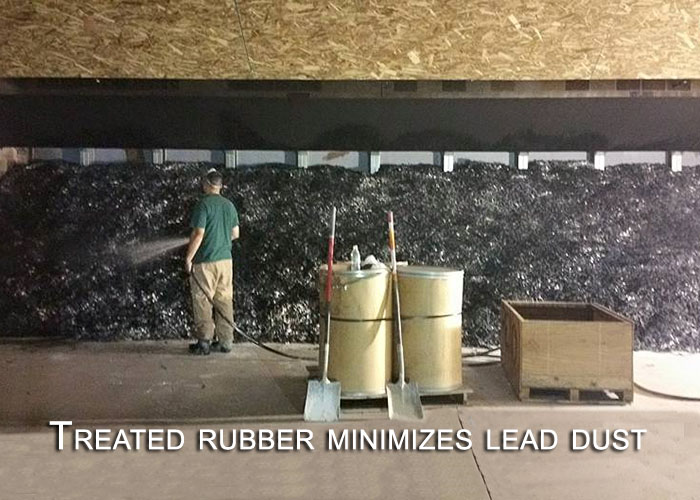 Tactical bay is often used for advanced training
Tactical Shooting Ranges are different from static, or traditional firing range layouts in order to safely accommodate modern firearms training classes. The most prominent feature of a tactical firing range is the overall ceiling baffle layout.  These baffles are positioned closer to each other  with a ballistic plate overlap of about 8″.  Our ballistic rubber trap system is designed to shoot up close, or at various angles, within the 20′ to point blank range.   AR500 steel runs along the length of the bay (behind the air gap) for additional protection.