Cane Defense Fundamentals
Featuring Guest Instructor MARK SHUEY,
Grand Master Cane Instructor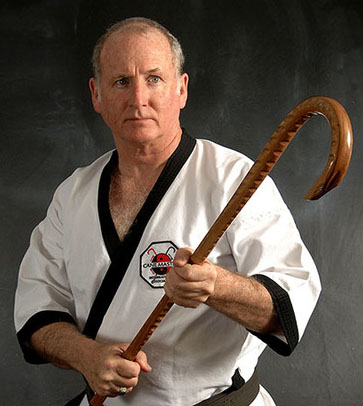 Duration: 6 Hours | Class Size: Maximum 40 | Cost $125.00 Standard class
Duration: 3 Hours | Class Size: Maximum 30 | Cost $ 20.00 Veterans Only class, Proof of service required. Includes a custom cane, compliments of Mark Shuey
This 6 hour workshop provides a simple and intuitive training program that will quickly make you more efficient in deploying and using a cane in a modern defensive context. The focus is on tactics and proper mindset development to empower you to manage fear and apply the skills learned in the event of a threat.  Following are some of the topics of the Fundamentals course:
Training in Context/Plausibility Principle.
The Cane and the Law.
The Cane is a Tool.
How to Grip the Cane.
The Body's Natural Reactions to Danger.
Stance
Benefits of the Cane beyond Defense
Deploying the Cane
Action-Reaction Drill.
Angles and Trajectories
Targeting Strategy
Dynamic skills development and evaluation through various Force on Force scenarios
Mark Shuey, Cane Masters Grand Master Cane Instructor, brings a wealth of experience from an extensive variety of disciplines.
Please wear comfortable clothing.
To enroll in the class, please click Dates & Registration at the top of this page.
If you have questions, please email Training@RenoGuns.com